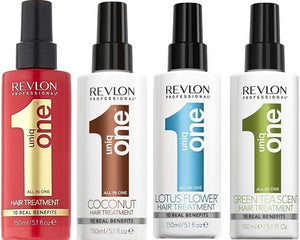 Revlon Uniq One
Price (without tax): £7.99
Price (with tax): £9.59
£799

£7.99
---
---
1. Repairs dry and damaged hair
It has moisturizing and conditioning agents that significantly improve the texture of the hair.
2. Controls frizz
It protects against environmental damage and prevents the formation of "creepy" hair.
3. Protects from the heat of the dryer and the flat iron
This product forms a film around the capillary fiber, protecting it from high temperatures.
4. It leaves a smooth touch:
It has powerful conditioning agents and amino acids that soften and control.
5. Protects from the sun and maintains the hair color
With extremely light UVA and UVB filters, which protect without leaving the hair heavy. Prevents the oxidation caused by the sun that causes the hair color to fade.
6. It facilitates the brushing
With the hair softer and softer, it is easy to slide the brush.
7. Incredible detangling:
You can say goodbye to your combing cream. Without pulling or crying, it wraps around each strand and ends the tangle.
8. Maintains the hairstyle longer
As it protects the threads, prevents the formation of frizz, leaving your hairstyle flawless longer.
9. Prevents split ends
Using it every day prevents you from cutting your hair often because it protects the hair from aggression.
10. It controls the natural volume of the hair
It protects from moisture.
Composition:
It contains no parabens.
---
We Also Recommend
Price (without tax): £7.99
Price (with tax): £9.59