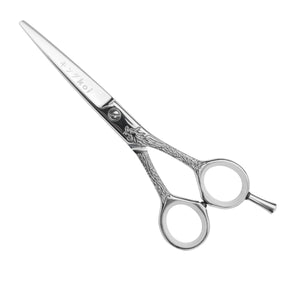 KOI Dragon 5.5"
Price (without tax): £126.50
Price (with tax): £151.80
£12650

£126.50
---
---
Hollow Ground Japanese Stainless Steel

Superior Quality
Detachable finger rest, finger inserts
Dragon engraved on surface
NEW Model
A fusion of supreme Japanese forged steel and an ergonomic focus design that blends comfort and balance. Hand-honed shears made from the highest quality 440-C Japanese Forged Steel for superior performance. Smooth and ultra sharp blade for precision cutting techniques including the slide cut. Ergonomically curved finger rest and tang for freedom of movement and support. Quiet Comfort Stopper silencing the shear, softens the feel of the cut and offers comfort and control.
DESIGNED FOR THE PROFESSIONAL STYLIST. CREATED FOR ULTIMATE COMFORT & PRECISION.
Genuine Original Koi Professional Scissors
---
We Also Recommend
Price (without tax): £126.50
Price (with tax): £151.80